Update

2018-04-28 Added more packages I use and new settings I do (reinstalled machine)
In this post I show the applications and settings I commonly use for my local development machine.
Operating System: GNU/Linux - Debian Stretch
Dektop Manager: xfce4
Frequently Used Applications
This is the list of application I frequently use and try to have them installed after I have a fresh computer. Some applications are general purpose and others are related with programming, things I investigate, my job and personal projects.
Gnome file roller allows the user to compress filesfile-roller
Font Viewer helps install fonts gnome-font-viewer
Google Chrome
Terminal music player mocp
Vim editor, command line text editorvim
Build essentials build-essential
SublimeText3 text editor I use for almost everything.
Emacs text editor I use for certain things emacs
Redshift helps me change my monitor temperature redshift
Kazam desktop recording kazam
Kupfer similar to Spotlight that allows me to lauch application the easy way kupfer
Shutter for screenshots shutter
Vector graphics editor inkscape
Gnome Hex Editor ghex
Meld to compare differences between two files meld
Armagetron, Tron based game armagetronad
DOSBox emulator for old DOS games dosbox
Missing drivers firmware-linux-free firmware-linux-nonfree
Ristretto Image viewer
Ettercap
Transmission torrent client transmission
Wireshark to see network traffic wireshark
Slack messaging, I personally use the web version but when I need to share my screen I'm force to use the desktop verison.
Pavu Controller for audio configuration pavucontrol
VLC Media Player vlc
Evince PDF viewer evince
xCHM .chm files viewer xchm
Utility to manage disks gparted
Hardware information hardinfo
Docker Community Edition
NodeJs
This is another list of application I use frequently in the terminal.
Terminal multiplexer tmux
htop ncurses-based process viewer htop
Track system calls of a process strace
HTTP client curl
DNS utils dnsutils
Install always sudo
Compress utils zip
Of course there are other packets for specific very specific things that I install when required.
Desktop
I use XFCE4 with two panels both on the top section of the screen. The first one contains the applications menu with the Debian logo; a separator with transparency enabled that extends; list of opened windos; another transparent separator that extends. The second panel has these items: workspace areas four workspace area in two rows (2x2); a CPU usage viewr; notification are; plugin for PulseAudio; and the date-time plugin.
First panel has a dark background while the other uses the style that comes by default.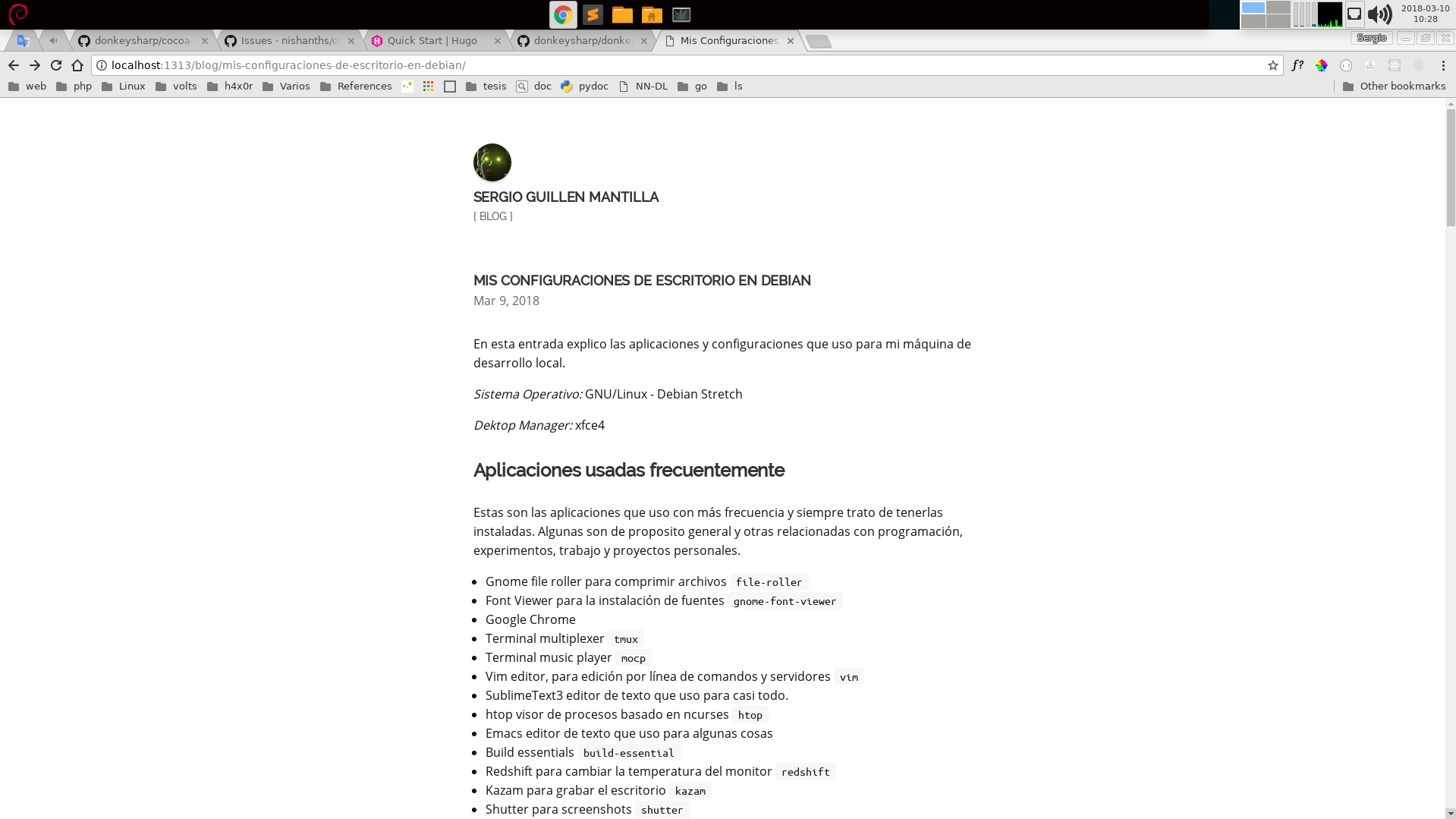 Look and feel
For my look and feel settings I use the next:
Numix Light icons that are installed with numix-icon-theme
Adwaita window theme
Default font: Sans (10) with antialiasing enabled Slight and DPI set to 101.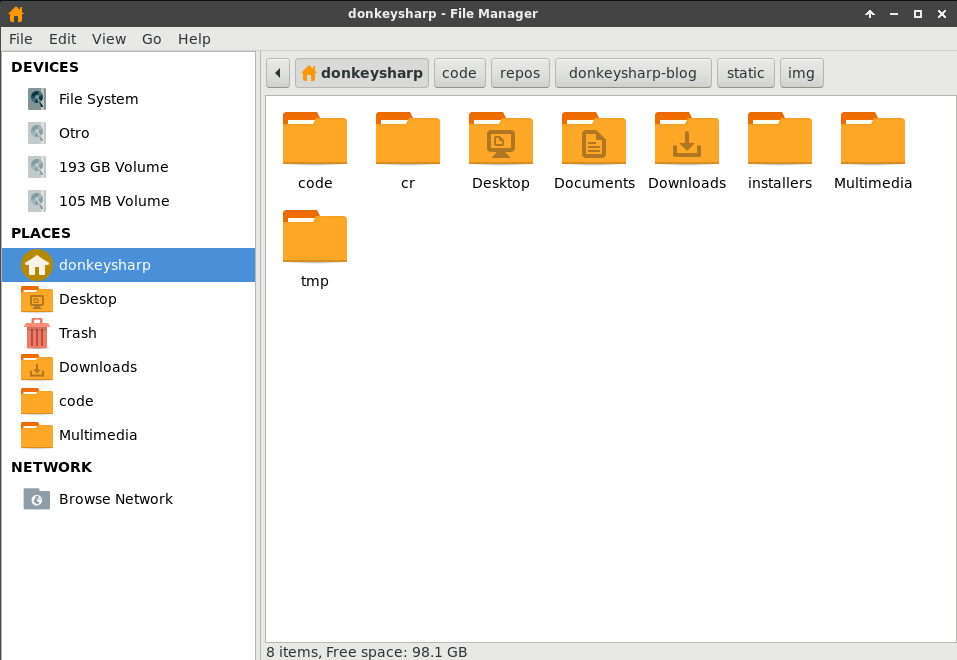 Extra Tweaks
I don't like the Windows Switcher (alt + tab) that comes with XFCE4 by default, it is too big with a preview of each window. I prefer to have small icons without the name of the window or things like that. With a couple of changes I can get that by going to: Settings > Window Manager Tweaks and select the Cycling tab and unselect Cycle through windows in a list and finally in the Compositor tab unselect Show windows preview in place of icons when cylcing.
Hotkeys
I have some hotkeys configure in XFCE4 for common tasks I do. To configure hotkeys in XFCE4 go to Settings > Keyboard > Application Shortcuts tab. My common hotkeys are:
| Hotkey | Comando | Descripción |
| --- | --- | --- |
| win_key + f | thunar | Open Thunar file manager |
| win_key + t | /usr/bin/xfce4-terminal | Open a new terminal |
| win_key + n | mocp --next | Next song in MOC player |
| win_key + b | mocp --previous | Previous song in MOC player |
| win_key + o | mocp --pause | Paus the actual song in MOC player |
| win_key + p | mocp --unpause | Continue playing song in MOC player |
Other hotkeys: This is not an XFCE4 hotkey but I use it frequently ctrl + shift + space that launches Kupfer.
Terminal
Theme
I use xfce4-terminal with the next settings in ~/.config/xfce4/terminal/terminalrc`.
Prompt
By default Bash comes with a prompt similar to usuario@host:directorio-actual. In my case I use a lot of Git repositories, this default prompt is not good enough for me as I need to check the current branch, if there are conflicts or unstaged changes, etc. Of course I can run git status but the prompt can help me with that 😉. This is the script I export in .bashrc, that basically shows repository information, current directory and the time. Thanks to Mike Stewart who is the original author of that script.
I tried to use zsh and its frameworks but I didn't feel comfortable and it was kind of hard getting used to it, so the simplest way for me was having a custom prompt light and simple. Fortunately there were so many resources available on the Internet so it wasn't a pain.
Dot env settings
Tmux settings
I started using Tmux sing Debian Wheezy but when I upgraded to Debian Jessie I had some problems with the current working directory when creating new panels. This is the .tmux.conf I use.
MOC Player Settings
Because MOC is a CLI tool I think it fits in this section. I use two files .moc/config and another one for the theme. Both can be found here.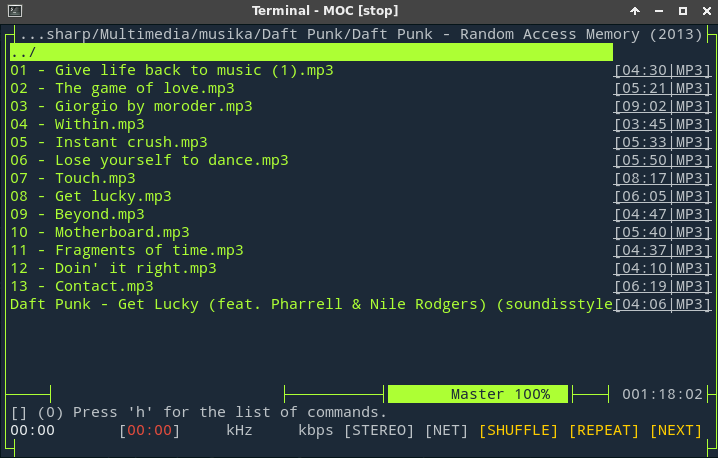 Final Comments
Although this configurations are more for my personal usage, I wrote this post with the purpose to read if I forget something and shared in case it is useful for a reader.